We are happy to present two demos of our work in Spatio-Temporal Building & Object Localization.
Demo Video1: This demo is a part of a DW video, in which we localize structural elements (such as roads, sidewalks, fences e.t.c.) and buildings. If a building is detected (red color), then we localize building's facade elements, such as windows (blue color) and doors (green color). In the video there are also captions that show the type of scene that is detected and the elements that are localized in it."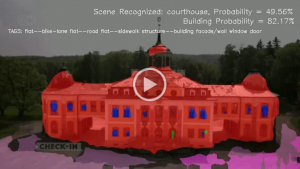 Demo Video2: This demo video is a part of a DW's series "Nicos Weg", in which we localize interior objects (such as furniture and electrical appliances) and humans.